A Look at Some Typical Hot Water Systems

System
People
Tank Gal.
Tank Size
Collector Size
Notes
Entry level
heatpipe, 32 gal
1 or 1
32
40"X20"
39"X79"
5.5' high-works well on ground. Needs backup. No parasitic energy or pumps to maintain.
4x8, 65 gal
3
22"X59"
22"X59"
4X8
About 3.5' high. Has electric element
4x10, 80 gal
4
24"X59
24"X59"
4X10
About 3.5' high. Has electric element
2- 4x8, 120 gal
6 or 7
120
28"X63"
2@4x8
About 3.5' high. Has electric element
All systems include mixing valves, high temp ¾" wall insulation on exterior piping, ½ inch wall on interior insulation, charge assemblies, pump isolation valves for easy maintenance, tank thermometer, 2" foam tank insulation, clear labeling, operation manual, and tax rebate forms. Warranty: 30 yr limited on collectors, two years on parts, one year on labor.
All of these systems, except the thermosyphon, are "closed loop systems" and use storage tanks with internal heat exchangers. These systems come in two configurations: PV PUMPED, ANTIFREEZE SYSTEM, or DRAINBACKSYSTEM (requires a $175 upcharge).
System Comparison
Benefits
Disadvantages
PV PUMPED ANTIFREEZE

No AC power used

Collectors can be mounted anywhere

Works during power outage

Nontoxic antifreeze should be changed every 8 years, or sooner with overheating.

Can overheat on vacations & spurt a little antifreeze out relief valve.

Antifreeze may reduce collector life a little over pure water.

PURE WATER DRAINBACK

AC pump is faster and collects 10% more heat.

Overheat protection can shut system off, extending collector and tank life.

Vacation proof.

No antifreeze changes. For $225, a heat exchanger can be added to drainback tank for future heating of floors, or hot tubs.

Solarwise Radient Space Heating
RADIANT SPACE HEATING works great with solar, and keeps on working for decades, as energy costs rise!
Architectural considerations: Collectors for space heating are most economical when arranged vertically in banks up to eight collectors. Our shortest collectors are 4'x6.5' feet high, making a bank arrangement about 5.5 feet high at 60 degree tilt. (Space heating collectors are usually mounted from 60 degrees to vertical. They can even be mounted on south walls). Systems can be either PV pumped antifreeze, or drainback, like our hot water systems. With a small loss in efficiency and small increase in price, we can mount 3x7 or 3x8 collectors horizontally for space heat or hot water, making them only about 3 feet high. Space heating systems can heat pools or hot tubs outside of the heating season.
Sizing: A rough rule of thumb for collector sizing is about 10% of the heated floor area in collector area, less if there is passive solar. Thus 2000 sq. ft. requires maybe 200 sq ft of collector, or six or seven 4'x8" collectors.
Pricing: We give specific quotes for each space heat system, as circumstances vary. A very rough guide is maybe $3000 for a backup boiler interface, heat exchanger, controls and DHW tank upsize. If 4'X8" collectors are roughly $1400 installed, this 2000 sq ft space heating system may cost around $3000+$8400 (six collectors), or an $11,400 add on to the DHW system. Actual prices vary. You can make your money back on energy savings, and then resell your solar system as equity again when you sell your house!
Pressurizing Closed-Loop Systems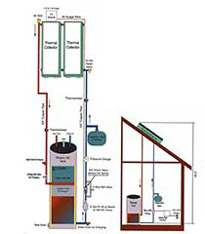 click to enlarge
Drainback HE Tank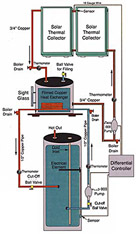 click to enlarge
Double Pumped Drainback Systems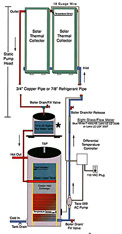 click to enlarge